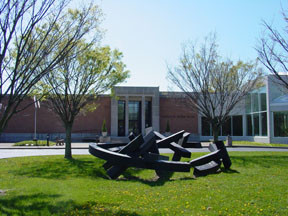 Huntington Museum of Art
Huntington, West Virginia

The Museum began as the Huntington Galleries in 1952, when many significant works of art and private collections were donated to the Museum. These collections, along with the acquisistion of The Daywood Collection in 1967, are considered the Museum's "legacy collections," and have become the backbone of the institution. These early donations included a substantial number of important paintings, with focuses on 18th century British portraits, European landscape paintings, especially in the Barbizon tradition, and important American paintings from the 18th through the first few decades of the 20th century. The Daywood Collection added significant works by artists of the Hudson River School, along with tonalist landscapes, impressionism, and realism. A significant number of American and European sculptures, especially small scale bronzes from the late 19th and early 20th centuries, were acquired in the Museum's first 25 years of operation, as were important collections of works on paper, including 17th through early 20th century watercolors, pastels, drawings, and prints. Other early acquisitions gave the collection strength in the areas of decorative arts (and include Near Eastern prayer rugs from Turkey, the Caucasus, and Turkoman regions, and British silver); arms and armor (especially firearms and accoutrements); archaeological and ethnographic artifacts (especially Pre-Columbian ceramics, Ohio Valley ancient artifacts, and Inuit and other native American material culture). After these initial gifts, a number of smaller miscellaneous collections were acquired predominantly as gifts, including books and manuscripts, musical instruments, 19th century British and American furniture, Asian prints and decorative arts, textiles (including American quilts and coverlets, and French tapestries), coins, beaded bags, dolls, canes and match safes.
In 1970, our exhibition space was more than doubled with the completion of a Walter Gropius-designed addition; this addition included a sculpture courtyard, and outdoor sculpture became a collecting emphasis. Many objects were acquired during the 1980s that are situated within the sculpture court and on the grounds around the perimeter of the Museum.
Glass manufacture has been an important industry in the Ohio River Valley, with dozens of factories once in place. Glass collecting, as well, is widespread throughout the community. In the 1970s, the Museum took note of this historically important regional phenomenon and expanded its holdings in Early American, Ohio River Valley, Art and Studio Glass. The extensive collection of Ohio Valley glass, and examples of American and European art glass, are displayed in an expansive visible storage format that allows for approximately 25% of this collection to be on view at one time. The Ohio Valley glass collection follows the development of glassmaking throughout this region from the early 18th century to the present. The permanent glass gallery, designed as a study gallery, includes many examples of glass from the area's "golden age" of glassmaking, and also includes several cases of art glass donated to HMA by a local collector. The items on view in this gallery are important to researchers, designers, historians, glass workers and collectors as well as the general public.
In 1976, to celebrate America's Bicentennial, the museum was involved in a tri-part project that produced an early and important collection of fine studio glass. "New American Glass: Focus West Virginia" first placed studio glass artists at work in six West Virginia glass factories. The works created as a result of this fusion of artistic energy and industrial technology were exhibited in a studio glass exhibition and then became part of the permanent collection. Studio Glass became a collecting focus, and important early works by studio glass pioneers were obtained including works by Harvey Littleton, Dominick Labino, Fritz Dreisbach, Joel Philip Myers, Dale Chihuly, Michael Peisner, Toots Zynsky, Ginny Ruffner and many others. The latest addition to our studio glass collection is the large Dale Chihuly tower in the Conservatory.
Native West Virginians Arthur Spencer Dayton and Ruth Woods Dayton amassed an impressive collection of paintings, prints, sculpture and glass, 375 works in all, which Ruth Woods Dayton donated to the Huntington Museum of Art in 1967. The collection as a whole has been named The Daywood Collection, and contains works by important American artists from the mid-19th century up to "The Eight," and also includes early watercolors by Andrew Wyeth. HMA is fortunate to be the caretaker for these works, which would be out of reach for purchase today. Some of the artists represented in the collection of 70 paintings are Frank W. Benson, Childe Hassam, Edward Hopper, Winslow Homer, George Inness, Maurice Prendergast, John Singer Sargent, Julian Alden Weir, James McNeil Whistler, and Alexander Wyant. Another facet of the collection is the interest in female sculptors, including Harriet Whitney Frishmuth, Grace Helen Talbot, Anna Hyatt Huntington, Edith Parsons, and Bessie Potter Vonnoh.
Also included in the collection are 165 American and European prints, mostly from the 19th and the first half of the 20th century (including examples by artists that were both painters and printmakers, such as Childe Hassam and Frank Benson), as well as a few important old master prints.
In the 1980s HMA made a concerted effort to acquire folk art. This commitment has resulted in the development of an excellent Appalachian folk art collection which helps foster a sense of regional cultural pride. The folk art collection includes more than 200 outstanding examples of paintings, drawings, sculpture, textiles and "eccentric" furniture by artists from the region who have become known nationwide, including Edgar Tolson, Shields Landon Jones, Garland and Minnie Adkins, Dilmus Hall, Evan Decker, Noah and Charlie Kinney, Linvel Barker and others. There are also a few examples of important folk artists from outside the Appalachian area.
History, local traditions and craftsmanship are emphasized in the installation of the Herman P. Dean Firearms Collection, which has a loyal following. The collection traces the history of firearms and their development from about the 16th century on, and includes accroutements such as engraved powder horns and tools used in gunmaking. A special emphasis on Kentucky rifles of the 18th and 19th centuries affords an opportunity to relate the collection to the history of the region HMA serves.
Works on paper comprise 10% of the collection, with strengths in contemporary prints, 19th and 20th century European and American prints, and more than 200 natural history prints, concentrating on bird and botanical subjects. The natural history prints include magnificent works by Mark Catesby, John James Audubon, John Gould, Joseph Pierre Buc'hoz, Basilius Besler and Pierre Joseph Redoute, among others, and create a sympathetic connection between the Museum's art and nature programs.
Our community has been greatly affected by the growth of Marshall University, which has expanded its degree-granting programs significantly in the past decade. The community has become more culturally diverse as a result of the University's growth. Noticeably, Huntington has developed a substantial community of Near and Middle Eastern immigrants whose members work primarily at the university and in the medical field. These new citizens have a great love of the arts, and are overwhelmingly supportive of HMA, acting as board and museum members, volunteers, visitors, and teachers, and support all the Museum's programs and exhibitions. The addition of the Touma Collection of Near Eastern Art has been an important validation of their position in the community. The Touma Gallery displays ceramics, metalwork, arms, scientific instruments, prayer rugs, manuscripts, furniture, painting and other decorative arts.
The Museum's James D. Francis Library, with its extensive holdings of books and other materials that relate to the history of the collection and the institution, plays a valuable role in assisting researchers.
Nestled on 52 acres with nature trails and a tropical plant conservatory, the Huntington Museum of Art is a fine arts museum offering something for everyone. HMA presents permanent exhibits of British silver and portraits, antique firearms, glass, and Near Eastern art. HMA also presents world-class traveling art exhibits as well as exhibitions organized using works from our permanent collections. HMA is located at 2033 McCoy Road in Huntington, West Virginia. HMA is accessible from Exit 8 off Interstate 64 or from 8th Street in downtown Huntington. HMA has free parking and is fully accessible.
HMA is open from 10 a.m. to 9 p.m. Tuesday, 10 a.m. to 5 p.m. Wednesday through Saturday, and noon to 5 p.m. Sunday. Closed Mondays. Admission is free on Tuesdays and $5 per person or $18 for a family of four or more on other days. Tours of 10 or more can be arranged by calling the Education Department at (304) 529-2701.
The Museum Shop is open during regular HMA hours and offers jewelry, gifts with artistic flair, regional artwork, art books, and much more.
Website:

Exhibitions:

The Dorothy and Herbert Vogel Collection: Fifty Works for Fifty States. Huntington Museum of Art, Huntington, West Virginia, August 28, 2010 — November 28, 2010.