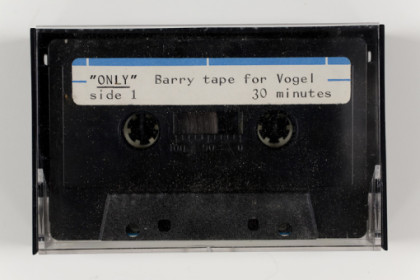 Only
sound installation
N/A
Barry recorded this work on a two-sided audio cassette. The list of words uttered in the recording are identical on each side except for the inclusion of one extra word on side B: the word "soon."
Barry is associated with the art movement known as conceptual art. In conceptual art, the concepts or ideas take precedence over aesthetic concerns or use of traditional materials of visual art.
Barry is often referred to as a language artist. In an interview with Catherine Speath in March of 2009 he stated:
I would even hesitate to call myself an artist who uses language. I use words. Words as objects, and of course these words are loaded and meant to grab the viewer in a way that they can interact with them - if they choose to do so. Words come from us. They don't exist in the world outside of us. They speak to us.
Tours

Institution

The information related to this object is presented on behalf of Frederick R. Weisman Art Museum, University of Minnesota. Questions or comments?